Meet Our Dentists and Orthodontists
---
Dr. Arzegar
Dr. Arzegar completed his dental training at the world renowned dental program, University of Texas Health Science Center at San Antonio, which has ranked in the Top 3 dental training facilities nationally.
During his training years, Dr. Arzegar was very involved in the profession of dentistry with an emphasis on philanthropy and community outreach programs which attended to the underserved.
He spent several months in the south Texas area providing comprehensive dentistry to the communities in Eagle Pass, Laredo, Piedras Negras, Motomorros as well as here in the great city of Austin. He was involved with an initiative called the Theo Project which offered free care to children who could not receive care otherwise. Dr. Arzegar is also heavily involved in promoting the importance of oral health to children at local schools.
Dr. Arzegar spends numerous hours every year attending the latest seminars on Cosmetic, Implant surgery, Smile Makeovers and full mouth rehabilitation dentistry both nationally and internationally.
He has trained with some of the most leading surgeons and dentists in the field of dentistry such as Dr. John Kois in Seattle who is a leading researcher in evidence-based dentistry.
Dr. Arzegar has been inducted into America's Best Dentist Council, an independent committee recognizing practicing dentists for their passion and quality of care and commitment to the profession.
Dr. Arzegar believes in and supports organizations which have a great impact on the lives of children. These organizations believe in both educational and healthcare wellbeing of children. He supports many organizations amongst which are Seton hospital children's cancer foundation and St. Jude's foundation.
He also participates in events such as the Texas Mission of Mercy providing pro-bono comprehensive care to the residents of Texas whom cannot afford care.
In his free time, Dr. Arzegar spends time with his wife and children. He enjoys playing basketball and horseback riding. He is a diehard fan of the San Antonio Spurs.
"Our vision has always been focusing on preventative care and treating causes of diseases not just symptoms. It is only through collaborative care between physicians, dentists and other healthcare providers where we can eradicate disease and avoid epidemics." – Dr. Arzegar
---
Alireza Torabi, DDS, MS, MDS
(Periodontist, The State University of New Jersey)
Phone: (512) 809-2725
Email: dr.alireza.torabi@gmail.com
Dr. Torabi practices Periodontics and Implant Dentistry in Austin. He has completed his specialty residency in Periodontology as an honor graduate and earned Master of Dental Science from Rutgers, The State University of New Jersey. He is also trained in Advanced Laser Dentistry at Rutgers Dental School of Medicine. Dr.Torabi achieved an award from The Northeastern Society of Periodontists, New York, for his outstanding surgical technique in Implant Dentistry. Dr. Torabi received his Doctorate of Dental Surgery degree from Tehran University of Medical Sciences, School of Dentistry with honors. He had been practicing full-time dentistry prior to his specialty training for 2 years. Then he chose periodontology as his speciality and could graduate as a top resident in periodontology and Implant dentistry. Dr. Torabi started his practice as a periodontist since 2008 and during these years, he was involved with numerous clinical research studies and study clubs. He has published several articles on periodontal procedures, dental implants and interdisciplinary esthetic dentistry. His scientific presentations in national and international dental meetings show his commitment to cutting-edge dentistry. Dr. Torabi has always been passionate about providing state-of-the-art comprehensive care for his patients based on their demands and needs. He is committed to providing his patients with the latest treatments and technologies available. He offers a wide range of services including periodontal osseous respective and regenerative procedures, gum grafting, routine extractions, socket preservation, placement of dental implants, bone grafting, lip repositioning and laser treatment. Coming from a family of dentists, he has also been involved with various community services to promote oral health care.
---
Brittney- Marketing Director
Brittany is originally from Oregon and moved to Austin about one year ago.  Being creative, tech savvy, and knowing the in's and outs of social media, has made her a great fit as our marketing director.  Brittney loves spending her free time with her three dogs and trying all the great food Austin to offer.
---
Brooke- Office Manager
I am the friendly face at the checkout area I am happy to answer your questions, schedule your next visit, as well as discuss payment options.  It is important to me that each patient that walks through the door feels welcome and comfortable.  I have been with lifetime smile since June 2012.  Dr Arzegar hired me as a registered dental assistant.  I have two children Madilyn and Maddox.  In my spare time I enjoy watching and playing sports.
---
Amanda- Registered Dental Assistant
She is the newest member at Lifetime Smiles Cosmetic Dentistry.  She is dedicated, a team player and outgoing.  The absolute favorite part of her day is being able to connect with her patients, and making them feel welcome during their time here in the office.  Amanda was born in Austin, TX.  She comes from a family of two brothers and a younger sister.
---
Jessica, Insurance Coordinator
Jess grew up in South Texas, and moved to San Marcos after she graduated high school to attend Texas State University. There, she studied Health and Wellness Promotion with a minor in Health Administration. She has been an integral part of our team since July of 2012. When she is not with her work family, she enjoys spending time with her husband and three young boys. She also enjoys running for a cause at a 5k/10k race, flip flops, and sunny weather!
---
Malee- Registered Dental Hygienist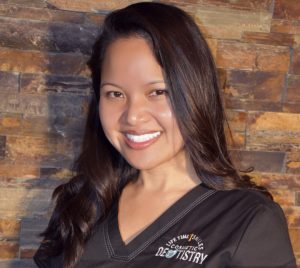 Malee brings to the office a passion for providing oral health care and education.  Her professionalism and commitment are noticeably reflected in her positive attitude in her positive attitude and delivery of care.  In her spare time, she enjoys traveling and spending time with her husband and two children.
---
Fabiola- Lead Registered Dental Assistant
Fabiola join the Lifetime Smiles team in 2013.  She enjoys making her patients feel comfortable and confident in the care she is providing during dental treatment.  She loves spending all of her spare time with her family and friends.
---
Yulia- Registered Dental Hygienist
Our European transplant, Yulia moced from Russia in 2012.  Prior to her entry to hygiene, she was an orthodonist.  Her attention to detail and desire to deliver the best care to her patients makes her a valuable member of our dental team.  She is bilingual in both English and Russian.  In her spare time she enjoys any sports activity cooking and traveling.
---
Christa- Patient Care Coordinator
Christa was born in San Marcos, TX.  She enjoys working for our office and creating a bond with each one of our patients and making a difference in their experience.  In her spare time she enjoys spending time with her family and friends.